"I don't forgive you."
―Vlad Turner
Vlad Turner (publicly known as Sebastian Shaw) was a prophetic human businessman, assassin and politician who served as a State Senator in North Carolina and as a Congressman in Virginia as well as a member the Council of Evil.
Biography
Edit
Early life
Edit
Vlad Turner was born to Joy and Brad Turner in Ironton, Ohio on May 19, 1960 alongside his twin brother, Chad. Just prior to returning home from the hospital, Turner was tragically abducted from the family by the Court of Ravens because they believed that the child had hidden power. Shortly after that, the infant was placed in the care of Court of Ravens members Boar and Gloria Shaw while the shadowy group itself arranged to make him legally Sebastian Shaw, their son.
Growing up in the Court of Ravens
Edit
Success as a businessman
Edit
Entering into the politics
Edit
Joining the Council of Evil
Edit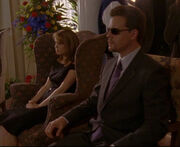 Personality and traits
Edit
Relationships
Edit
Powers and abilities
Edit
Appearances
Edit
Notes and references
Edit