"Praise be the name of Vincent Kennedy McMahon!"
―Vince McMahon
Vincent "Vince" McMahon (also known as Mr. McMahon, Mr. Mack Daddy and CV) was a human businessman and media tycoon who founded Titan Sports and was the majority owner, chairman, and CEO of World Wide Entertainment as well as a member of the Court of Ravens.
Biography
Edit
Early life
Edit
Vincent McMahon was born on August 24, 1945 in Pinehurst, North Carolina. He was raised as Vinnie Lupton and spent the majority of his childhood living with his mother, Victoria 'Vicki' Askew and a string of stepfathers. He claimed that one of his stepfathers, Leo Lupton, used to beat his mother and attacked McMahon when he tried to protect her. He once said, "It is unfortunate that he died before I could kill him. I would have enjoyed that." His biological father Vincent James McMahon, had left the family while McMahon was still a baby, taking his elder son, Rod, with him. McMahon did not meet his biological father until age twelve. According to him, he attended Fishburne Military School in Waynesboro, Virginia, graduating in 1964. He also overcame dyslexia early on in his life.
Personality and traits
Edit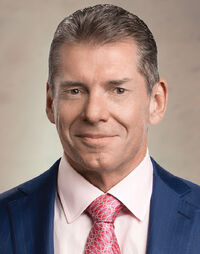 "Life sucks and then you die!"
―Vince McMahon
Relationships
Edit
Powers and abilities
Edit
Appearances
Edit
References
Edit