"There's only room for one dominant female in the McMahon family... and that's me!"
―Stephanie McMahon
Stephanie McMahon (also known as Stephanie McMahon-Haitch and Steph ML) was a human businesswoman and actress who served as CBO of World Wide Entertainment as well as a member of the Court of Ravens.
Biography
Edit
Early life
Edit
Stephanie McMahon was born on September 24, 1976 to Linda and Vince McMahon in Hartford, Connecticut. She grew up alongside an older brother, Shane. Soon after her birth, the family moved to Greenwich, Connecticut. There, she attended the selective Greenwich Country Day School, throughout her elementary school years. At the age of thirteen, McMahon appeared in World Wide Entertainment merchandise catalogs, modeling T-shirts and hats. After graduating from Greenwich High School alongside Esme Vanderheusen, she attended Boston University and in 1998 earned a degree in Communications. After graduating in 1998, she aspired to become an actress and at the same time began working for her father in the WWE full-time.
Personality and traits
Edit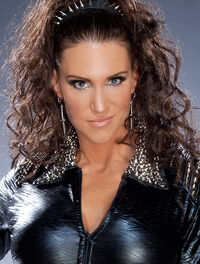 "You're my bitch now."
―Stephanie McMahon
Relationships
Edit
"I kicked a boy in the shins in second grade for making fun of my father."
―Stephanie McMahon
"You know, I have to admit, I used to get butterflies when Hunter would look at me... I didn't want to, I didn't really mean to, but just the way he would stand up to you... he was so... strong, and, and powerful."
―Stephanie McMahon, to her father about Hunter Haitch
Powers and abilities
Edit
Appearances
Edit
References
Edit
Ad blocker interference detected!
Wikia is a free-to-use site that makes money from advertising. We have a modified experience for viewers using ad blockers

Wikia is not accessible if you've made further modifications. Remove the custom ad blocker rule(s) and the page will load as expected.