Raven
Biographical information
Birth Name

Raven Rosalyn Katniss

Born
Physical description
Species

Reptilian

Gender

Female

Height

5'7"

Hair Color

Red

Eye Color

Yellow

Family information
Political information
Affiliation
"A reptilian and proud."
―Raven Katniss
Raven Katniss was a reptilian member of the G-Men as well as the Court of Ravens.
Biography
Edit
Early life
Edit
Personality and traits
Edit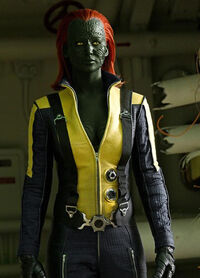 Relationships
Edit
Friendships
Edit
"Yes it did, Hank. Don't you see? This is who you were meant to be."
―Raven Katniss
"Hank, don't! You're beautiful, Hank. Everything you are, you're perfect. Look at all of us? Look at all we've achieved this week? All we will achieve? We are different. But we shouldn't be trying to fit into society. Society should aspire to be more like us. People and proud."
―Raven Katniss

Hank: Well then, it behooves me to tell you, that even if we save the world tomorrow, and we're accepted into society....
Raven: Go ahead. Take the blood.
Hank: Sorry. Did I hurt you
Powers and abilities
Edit
Appearances
Edit
Notes and references
Edit
Ad blocker interference detected!
Wikia is a free-to-use site that makes money from advertising. We have a modified experience for viewers using ad blockers

Wikia is not accessible if you've made further modifications. Remove the custom ad blocker rule(s) and the page will load as expected.