"Well, I might as well say it. As weird as it might be. What do you say we kill some evil son's of bitches and we raise a little hell?"
―Jensen Ackles
Jensen Ackles (also known as Dean Winchester) was a human actor and later vampire and celestial hunter who served the Nightstalkers as well as the Wolverines.
Biography
Edit
Early life
Edit
Personality and traits
Edit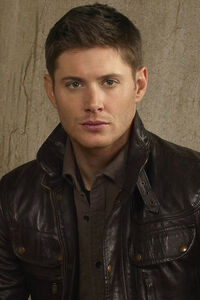 "What other choice do we have here? I mean, this road that the world is being led on will eventually mean zero freedom for everybody."
―Jensen Ackles
Relationships
Edit
Friendships
Edit
Daneel Ackles
Edit
Powers and abilities
Edit
Superhumanly Acute Senses: Ackles was able to sense the presence of supernatural beings or forces, such as Vampires, Mutants or Celestials, whereas an ordinary human would be oblivious to them.
Appearances
Edit
Notes and references
Edit