"Isn't this what you always wanted daddy? For me to be a costumed freak!"
―Heleena Wain
Heleena Wain (also known as The Harlequin) was a human, criminal, vigilante who was affiliated with the New Joker's Gang.
Biography
Edit
Early life
Edit
Heleena Wain was born in Long Island, New York, on July 20, 1990 to Bruce Wain and Silena Kyle.
Joker kidnapped Wain with the help of Harley Quinn and used shock treatments and serums to extract secrets about Batman from her.
Helena was able to overcome the trauma through years of therapy, though she was still under the influence of the chip Joker had installed on her that changed her from Heleena Wain into the Harlequin.
Personality and traits
Edit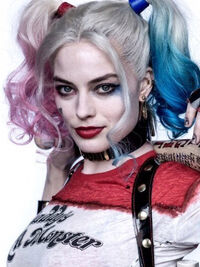 "Aww, all this for me I'm touched."
―Heleena Wain
Relationships
Edit
Romantic Life
Edit
Appearances
Edit
References
Edit
Ad blocker interference detected!
Wikia is a free-to-use site that makes money from advertising. We have a modified experience for viewers using ad blockers

Wikia is not accessible if you've made further modifications. Remove the custom ad blocker rule(s) and the page will load as expected.