The Cat
Biographical information
Homeworld
Birth Name

Elena Thermopolis

Born
Physical description
Species

Human

Gender

Female

Height

5'6"

Hair Color

Brown

Eye Color

Brown

Family information
Family

Steve Thermopolis (father)
Elieen Thermopolis (mother)
Renee Thermopolis (sister)

Political information
Affiliation
"I take what I need from those who have more than enough. I don't stand on the shoulders of those with less."
―Elena Thermopolis
Elena Thermopolis, (also known as The Cat), was a human female and a member of Jax Pavan's team to defeat the Court of Ravens.
Biography
Edit
Early life
Edit
Elena Thermopolis was born in Brooklyn, New York on November 12, 1982 to Steve and Elieen Thermopolis.
Meeting The Dark Knight
Edit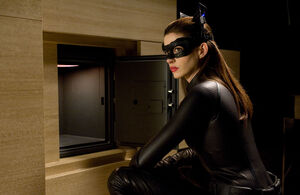 Elena Masqueraded as a maid service employee, Elena Thermopolis infiltrates Pavan Manor during a special function hosted by the Pavan Foundation. Elena was tasked by Maurice Micklewhite to bring a tray of food up to the east room of the manor. While there, Elena explored one of the rooms that contains a safe where she dusts off a set of fingerprints belonging to Jax Pavan and copied them down onto a printer toner. In addition, she cracked open the safe and found a fabulous white pearl necklace which she took and wore around her neck. Elena was confronted by Jax Pavan who informed her that the pearls belonged to his mother and that she can't have them. She stopped pretending to be a simple maid and then she kicked away his cane and then climbs onto a window ledge and performs a backflip, landing safely on the ground below outside the manor. She then discarded her maid outfit and grabed a ride with a man who then disappeared and galvanized the NYPD into finding him.
Personality and traits
Edit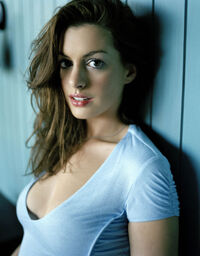 "There's a storm coming, Mr. Pavan. You and your friends better batten down the hatches, because when it hits, you're all gonna wonder how you ever thought you could live so large and leave so little for the rest of us."
―Elena Thermopolis
Relationships
Edit
Friendships
Edit
Elena: "My mother warned me about getting into cars with strange men."
Jax: "This isn't a car."
―Elena to Jax about his vehicle
Powers and Abilities
Edit
Appearances
Edit
References
Edit