Elektra King
Biographical information
Born

17 November 1966
France

Physical description
Species
Gender
Height

5'6"

Hair Color
Eye Color

Hazel Green

Family information
Family

James Bond (biological father)
Robert King (legal father)
Dominique Derval (mother)


Political information
Affiliation
"I'm going to redraw the map. And when I'm through the whole world will know my name, my true father's name! The glory of my people!"
―Elektra King
Elektra King, (also known as Elektra Derval and Elektra Bond), was a Human socialite and businesswoman who served as CEO of King Industries.
Biography
Edit
Early life
Edit
Elektra King was born on 17 November 1966 in France as a result of a brief affair between Dominique Derval and MI6 Agent James Bond. However, she grew up believing herself to be the daughter of Sir Robert King as her mother married the man whilst pregnant. King's marriage had become a much noted affair as he managed to acquire his wife's family oil business and assimilate it into his own construction enterprise, forming the official King Industries. Elektra's subsequent birth was also subject of much press coverage, foreshadowing much of the attention she would receive later on in her early adulthood. As the only daughter of a lucrative oil baron, Elektra had a privileged upbringing, becoming a tad bit spoiled in the process, but may have also been abused by the man. She attended prestigious private schools around Europe and often spent summers vacationing with what was left of her maternal family.
After college, Elektra decided to follow in her father's footsteps and join King Enterprises. Much to the media's delight, Elektra's business affiliation and beauty made her a well known figure in the press. In 1996, Elektra was sought out by her biological father who had escaped from prison and revealed the truth of her parentage, and that she was nearly the only proof that he existed. Goodspeed soon arrived with a team to re-arrest Bond and revealed to Elektra that her father was aiding the FBI. The fame eventually drew the attention of the chaos master Renard Rumpelstiltskin, who decided to kidnap her in a scheme to extort a large sum from her father. Sir Robert refused to pay the ransom on the advice of family friend Olivia Mansfield, the current M of MI6 at the time.
<<<<<<<<<<<<<<<<<<<<<< WORK IN
Embittered, she became Renard's lover and participated in his scheme to extort money from her family (going so far as to mutilate her own left ear so Renard could send it to her father as a warning) but pretended to have been traumatized by the kidnapping.
PROGRESS >>>>>>>>>>>>>>>>>>>>>>>>
Personality and traits
Edit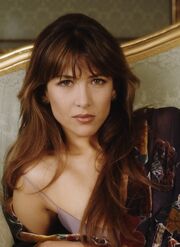 "There's no point living, if you can't feel alive."
―Elektra King
Relationships
Edit
Robert King
Edit
Dominique Derval
Edit
James Bond
Edit
Lucia Sciarra
Edit
Renard Rumpelstiltskin
Edit
Remington Steele
Edit
Powers and Abilities
Edit
Abilities
Edit
Acting:
Multilingualism:
Paraphernalia
Edit
Equipment
Edit
Transportation
Edit
Appearances
Edit
Template:Imagecat (King Industries) Template:Quotepage (King Industries)
References
Edit