Venham
Biographical information
Homeworld
Birth Name

Edward Chunky Jr.

Born
Physical description
Species

Human

Gender

Male

Height

5'10.5"

Hair Color

Light Brown

Eye Color

Blue

Family information
Family

Edward Chunky Sr. (father)
Kitty Chunky (mother)


Political information
Affiliation
"I like being bad. It makes me happy."
―Edward Chunky Jr.
Edward Chunky Jr. (also known as Eric Foreman and Venham) was a human photo-journalist with the Daily Bugle and member of the Court of Ravens.
Biography
Edit
Early life
Edit
Edward Chunky Jr. was born to Kitty and Edward Chunky Sr. in Oshkosh, Wisconsin on July 19, 1978. In high school, Chunky dated a girl named Donna.
Clashing with Scarlet Spider
Edit
"It's Chunky sir, Edward Chunky Jr. I'm here humbled and humiliated... to ask you for one thing... I want you to kill Ben Reilly."
―Edward Chunky Jr., in his pledge to God
Chunky was eventually hired by the Daily Bugle as a new photographer. Within a week he met both his fellow employee Ben Reilly and the vigilante Scarlet Spider. He became infatuated with the model Joyce Delaney after going on a coffee date with her. Shortly after this, J. Jonah Jameson asked for a picture of one of the Spider-Man's with his "hand in the cookie jar". Whoever would do it first would be rewarded with one of the open staff jobs and both Chunky and Reilly set out to get a picture.
One night, he saw a Spider-Man on his way to fight Dino and attempted to take a picture of him, but the vigilante used his web to break the camera and continued his search for Dino. Chunky later became humiliated by Reilly after he revealed that Chunky sold photoshopped versions of Reilly's photos. After being fired, he went to a church to pray for vengeance against Reilly. The symbiote happened to be in that same church and it bonded with Edward, making him black and chunky.
Personality and traits
Edit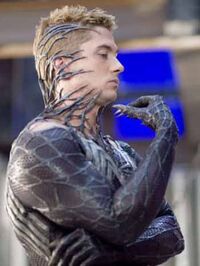 "Never wound what you can't kill."
―Edward Chunky Jr.
Powers and abilities
Edit
"Ooh, my spider sense is tingling. If you know what I'm talking about."
―Edward Chunky Jr.
Relationships
Edit
In high school, Chunky dated a girl named Donna.
Eddie: "What about that amazing... amazing night that we had?"
Joyce: "We had a coffee, Eddie."
―Eddie and Joyce about their date
Appearances
Edit
Notes and references
Edit