"Son, when you step into my yard things don't tend to end too well for you."
―Colt Killgrew
Colt Killgrew (also known as The Undertaker, Taker and The Nudertaker) was a human military operative in the United States Marine Corps and later a sheriff, Texas Ranger and bounty hunter affiliated with the Believer Gang.
Biography
Edit
Early life
Edit
Colt Killgrew was born in Houston, Texas on October 19, 1963 and was brought up in a "simple household". In his early adulthood, Killgrew enlisted in the Unites States Armed Forces and eventually joined the Marine Corps. During his service, Killgrew befriended two fellow Marines, the brothers Chad and Zad Turner.
At some point, Killgrew married Trichelle Williams and had two children together, Kirkwood and Kacy. Tragically, Trichelle was killed in an automobile accident that her husband for years believed to be purposeful.
Personality and traits
Edit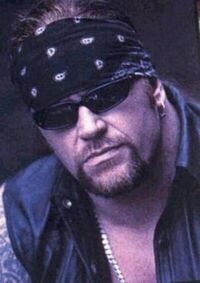 "I have just one question for ya. Do you feel lucky? Well, do you punk?"
―Colt Killgrew
Powers and abilities
Edit
Appearances
Edit
Notes and references
Edit