Carmella Van Dale
Biographical information
Birth Name

Carmella Van Dale

Born

October 23, 1987
Worcester, Massachusetts

Physical description
Species

Human

Gender

Female

Height

5'5"

Hair Color

Blonde

Eye Color

Hazel

Family information
Family

Paul Van Dale (father)
Melon Van Dale (mother)

Political information
Affiliation
"Honey, this is how all the business goes down here. If you can't handle it, you're in the wrong game."
―Carmella Van Dale
Carmella Van Dale (also known as The Mafia Princess and Mella), was a Human female, cheerleader and one of the founding members of The Mafia.
Biography
Edit
Early life
Edit
Carmella Van Dale grew up in Spencer, Massachusetts, a small town outside of Worcester. She attended the University of Rhode Island and later transferred to the University of Massachusetts Dartmouth, where she graduated with a bachelor's degree in marketing. After graduating, she became a cheerleader for the New England Patriots for three seasons, ending in 2010. She successfully auditioned for the Los Angeles Lakers dance team, appearing as a Los Angeles Laker Girl from 2010 to 2011.
Joining the Mafia
Edit
On a Monday evening walking back to her apartment, Carmella stumbled upon two individuals, who were in a back alley, that asked her who she was and where she was going. Van Dale told them she should get going; however, the two proceeded to pursue her. Assuming she was going to call the police, they told her if she didn't call the police they would give her a fair share of the money if she helped them in their heist. Carmella then agreed and the two of them told her who they were, Enzo Armore and Cassian Casserry. She then continued to work with them and they became the mob gang known as The Mafia.
Beginnings with the Mafia
Edit
Personality and traits
Edit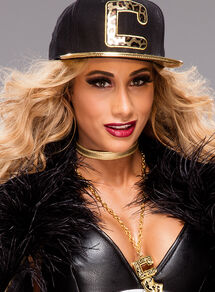 "Me and my crew are here to stay, 'kay?"
―Carmella Van Dale
Relationships
Edit
Friendships
Edit
Powers and Abilities
Edit
Appearances
Edit
References
Edit