BJ
Biographical information
Homeworld
Birth Name

BJ

Born

October 8

Physical description
Species

Dinosaur

Gender

Male

Eye Color

Black

Family information
Family
Political information
Known Masters
BJ was a dinosaur male and a member of Barney's cult.
Biography
Edit
Early life
Edit
Personality and traits
Edit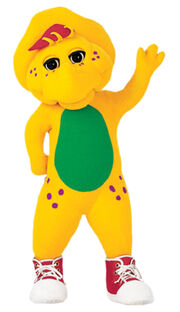 Pickles were his favorite food and because of that, he actually had them in different ways like pickles (also with pepperoni, peppers, pineapple and peanut butter) on a pizza or in mac-and-cheese.
BJ also liked to run, jump, and ride around on his red scooter. Although he loved baseball, basketball and soccer, it's safe to say that BJ had never met a sport he didn't like.
Powers and Abilities
Edit
Appearances
Edit
References
Edit
Ad blocker interference detected!
Wikia is a free-to-use site that makes money from advertising. We have a modified experience for viewers using ad blockers

Wikia is not accessible if you've made further modifications. Remove the custom ad blocker rule(s) and the page will load as expected.